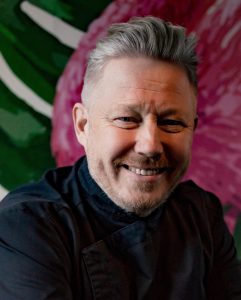 I'm Jyrki Sukula, they also call me Cuoco Pazzo here in Piedmont where I live with my family. This page is about my work and information on how to contact me. I'm an overall superman of food, gastronomy and wine with more than 35 years of practice in restaurants kitchens, in front of TV cameras, food industry companies etc.
Recent years my main interest has been in making the world a better place by developing sustainable food products and concepts. Some of the interesting projects include VIA, Rypsipossu, Naapurin Maalaiskana, Jymy organic Ice Cream, Saimaan Tuore recycled acquaculture system grown rainbow trout, and K-Supermarket Tripla meal concept and developing Nordic Business Forum food and hospitality concept.
---
Sukula Co

With SukulaCo I work as a food – and beverage consultant, keynote-speaker, give presentations and do restaurant- and food retail product development and consultancy work. Contact me at Jyrki@sukula.com
---
Financier Group
I'm a partner and founder of Financier Group Helsinki. It's an exceptional restaurant group in Helsinki. Our mission is to create places that people will love for decades. We believe that successful restaurants are made of great food, service and atmosphere. Our work focuses on getting these three things right. The number of our restaurants is, and will always be, small. While the genre of the places can vary; Financier always means superior quality, and extra care. To contact directly the restaurants; Savoy Helsinki, Palace, Espa or visit our home page.
---
Jymy Ice Cream
My favorite flavor of Jymy Ice Creams is the Naked Milk – made, as the name suggests, from the freshest, just milked, non-processed milk from the cows from our farm, just 6km distance from our small Ice Cream factory. I'm one of the founders and a partner at Jymy. With collaborations or commercial issues don't hesitate to contact info@jymy.fi or directly with me. More flavours, retailers and information about our unique ice creams from the Jymy pages.
---
Saimaan Tuore
I'm a partner and creative director at Saimaan Tuore – a company that created a new way to cultivate fish! Read more fish stories from our pages. Sustainable production methods are very close to my heart in all food development and if you wish to talk more contact me at jyrki@sukula.com
---
Nordalco
I'm a partner at Nordalco fine wine and beverage importer and wholesale company. From our versatile and exclusive selection, we serve horeca, tax-free, wholesale and the monopoly sectors. For information please contact info@nordalco.com
---
Social media
---
Press photos